Room about Candy

Hi Hi! I'm Candy, the webmaster of this homepage.
Writing this homepage is really not an easy job. But after
completing the work, I feel happy and full of satisfaction. haha~

Here, I will briefly introduce myself. There are three main
parts including my profile, childhood photo and record.
You can always go to my record part to see what I have
updated for the page as each time I add new things,
I will write them down in this part.

| | | |
| --- | --- | --- |
| Some of my infomation | My childhood photo | A record about this homepage and me |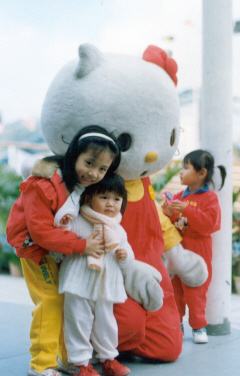 This is a photo that
i and my sister took
with Hello Kitty when
I was still small. The
one on the left is me
and the little girl
with white clothes is
my younger sister. Is
it a good picture? I
like it very much!